Ford introduces hands-off driving in the UK with BlueCruise technology
Semi-autonomous system now available for 2023 Ford Mustang Mach-Es on 2,300 miles of British motorways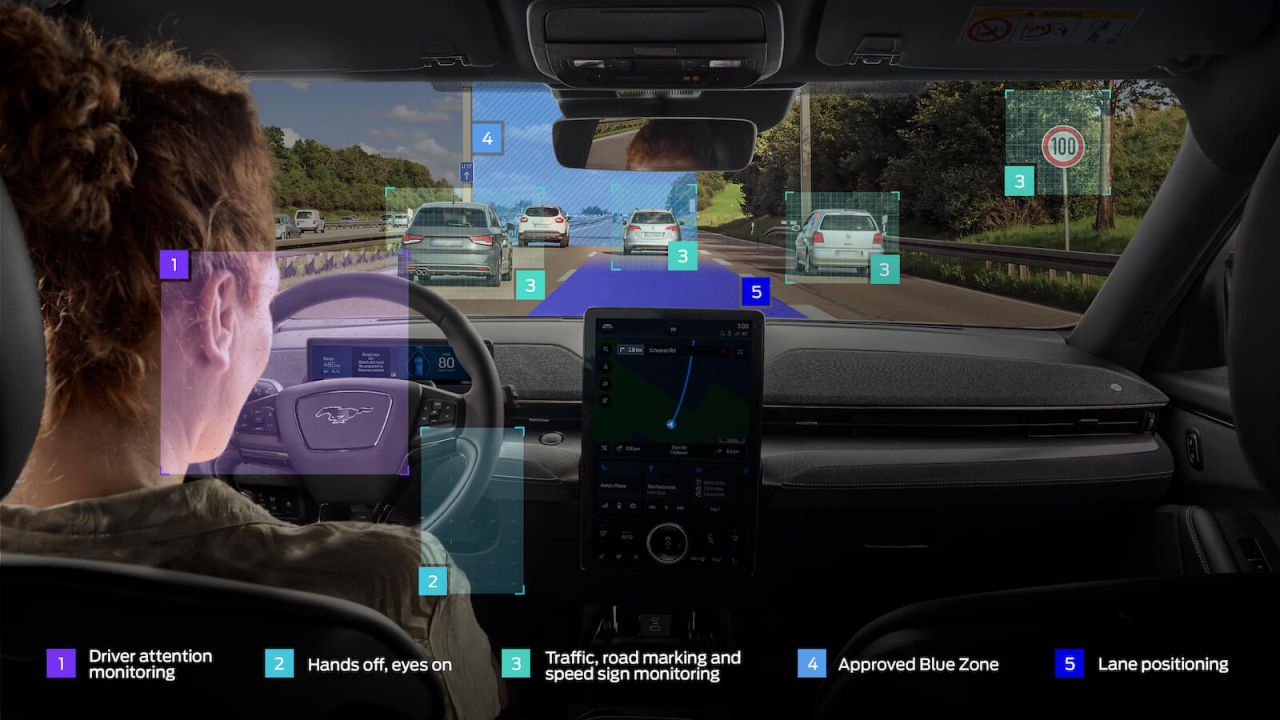 Ford has become the first car manufacturer to offer hands-off driving in the UK, following approval from the Department for Transport.
The move makes the UK the first country in Europe to allow such a feature on its roads, and comes following 100,000 miles of testing across European roads.
The semi-autonomous technology, called BlueCruise, is available as a subscription extra for 2023-model-year Ford Mustang Mach-Es for a monthly fee of £17.99.
BlueCruise enables drivers to remove their hands from the steering wheel and let the car drive itself on 2,300 miles of British motorways, which have been designated as "blue zones".

The feature works by monitoring road markings, speed signs, and traffic conditions to take control of steering, acceleration, braking, and lane positioning.
Unlike a level three fully autonomous system, which enables a car to drive itself without any human intervention or assistance, BlueCruise is described as a "hands-off,eyes on" feature, meaning it still requires the driver's attention to remain active. As a result, the car comes with an infrared driver-facing camera which tracks the driver's concentration levels.
If the driver does not respond to alerts when the car detects that they are distracted, the system will disengage the self-driving mode and gradually bring the vehicle to a stop.
Martin Sander, general manager, Ford Model E Europe, said: "It's not every day that you can say you've placed one foot in the future, but Ford BlueCruise becoming the first hands-free driving system of its kind to receive approval for use in a European country is a significant step forward for our industry."
"Modern highways can be demanding even for the most confident drivers, and intimidating for many. BlueCruise can do some of the 'heavy lifting', to make highway driving less of a chore, and give drivers that little extra confidence and convenience."
Loading Conversation
Join the Karfu wait list
Be the first to find out when our comparison service goes live.