Tamiya Wild One RC car returns as road-legal EV for 2024
The scaled-up version comes from British firm The Little Car Company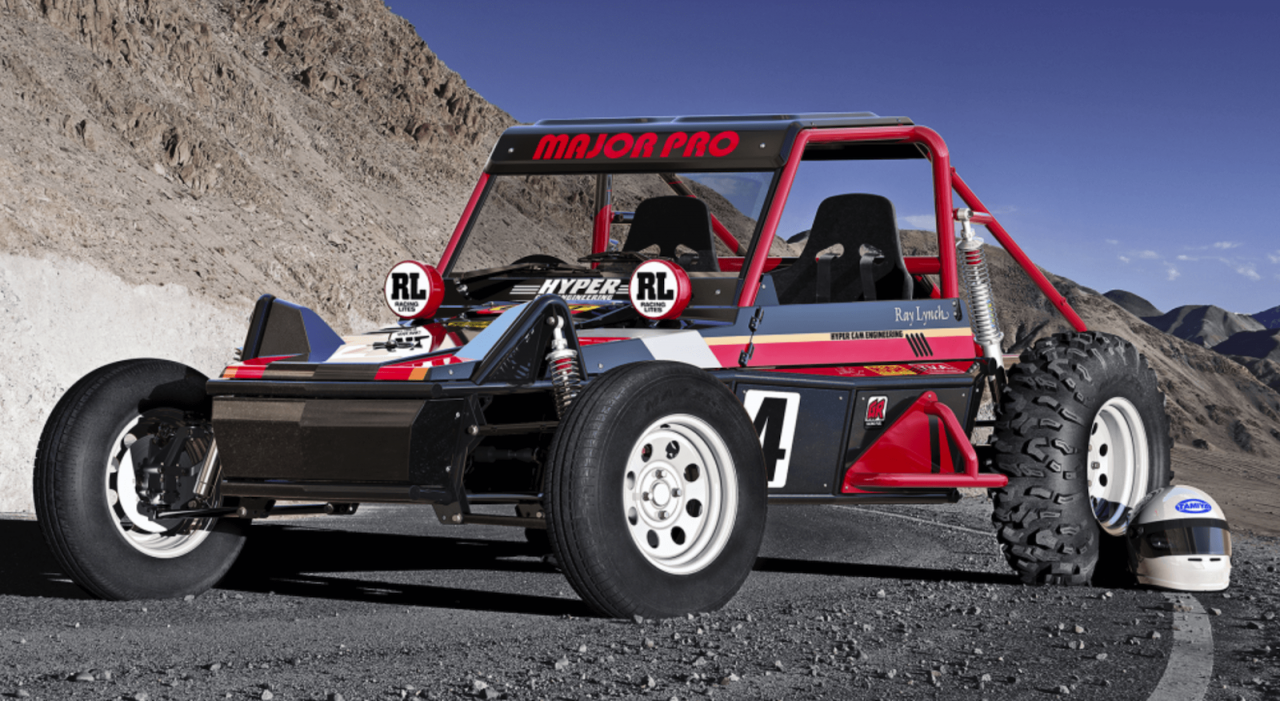 The renowned Tamiya Wild One remote-controlled car is making a comeback in 2024, but this time as a full-size electric vehicle (EV) that is road-legal.
It comes from The Little Car Company, a British firm that specialises in creating scaled-down replicas of classic and iconic vehicles.
The car initially made its debut two years ago, and featured a trailing-arm suspension setup. It has undergone some improvements since then, with the most notable upgrade being a more sophisticated double-wishbone suspension system up front, which aims to improve the vehicle's handling capabilities.
Additionally, the car has been elongated and widened by 0.1 metres, resulting in dimensions of 3.6 metres in length and 1.9 metres in width. This adjustment is claimed to deliver a more comfortable driving experience, plus space to accommodate an adult driver and passenger in its two Cobra bucket seats.
The range-topping Launch Edition models will come fitted with 4x Brembo disc brakes, Bilstein dampers, Eibach springs, a waterproof 5.0-inch instrument screen, and 14-inch Maxxis off-road tires.
The Little Car Company says the car's technical specifications still need to be confirmed, but did say the Launch Edition can achieve a top speed of 60 mph. This is thanks to the car coming in at around 500 kg.
The standard model has been said to deliver a top speed of 30bhp, thanks to an electric motor making 5.5bhp, plus a claimed range of 25-miles.
Like the 1:10 scale model, the car is powered by batteries, up to eight of them in fact, which are removable and make a combined capacity of 14.4 kWh.
For a spot of off-roading, the car boasts 270mm of ground clearance and a 4.1deg approach angle, plus a 28.4deg breakover angle and a 50.8deg departure angle.
To make the Wild One Max road-legal in the UK, an optional pack will be available, ensuring compliance with L7e quadricycle regulations. These regulations permit vehicles like the Citroën Ami to be allowed on public roads.
The final production version of the Wild One Max will be unveiled later this year, following thorough durability and performance testing.
Deliveries are scheduled to commence in early 2024, starting with a limited run of 100 Launch Edition cars, though pricing details are yet to be confirmed.
Loading Conversation
Join the Karfu wait list
Be the first to find out when our comparison service goes live.